---
What is Lyra EPOS App?
Electronic Point of Sales System Application by Lyra is a mobile application for receiving payments online. It caters to the need of the Omnichannel business and eliminates the need for a physical POS machine.
Features
Link-based payment collection
Multichannel payment acceptance
Eliminates the need for physical hardware
Seamless flow of transactions
Maximum security with a reliable application
Fraud & Chargeback minimization
Quick cashless transaction each time
EPOS app generates a payment link that can be shared with the customer via a QR code or any communication channel (social media, email, SMS, etc.). Your customers can pay using Cards, Net Banking, Wallets, and UPI. Also, it offers multi-card payments.
E-POS by Lyra is a ready-to-use mobile app that accepts any form of payment on the go and hence, remains by your side to help you in carrying out quick, secure and convenient transactions on a daily basis.
User-friendly/ Easy and quick operability:
Lyra EPOS is available for downloading directly from the play store. It has a user-friendly interface and easy operability
Link-based payment collection:
This payment collection solution is payment link/ QR code enabled. Payment collection link can be created with just a click and can be shared via any messaging social media app or via QR code scanner.
Backed by strong and secure technical support:
The solution is equipped with strong technical backing, support and up by the most secured Lyra Payment Gateway which ensures safe and quick processing of payment.
Multichannel payment acceptance:
Lyra EPOS solution accepts Multi-card payments and allows multiple payment options like Debit, credit card, Net banking, UPI and Wallet payments. With this customers can choose the option they are comfortable with.
Redundancy of physical POS:
Lyra EPOS is a mobile application which eliminates the need for physical POS machine saving the installation and maintenance charges and reduces the operational cost
How does it Work?
STEP 1: Create link
STEP 2: Share link
STEP 3: Collect Payment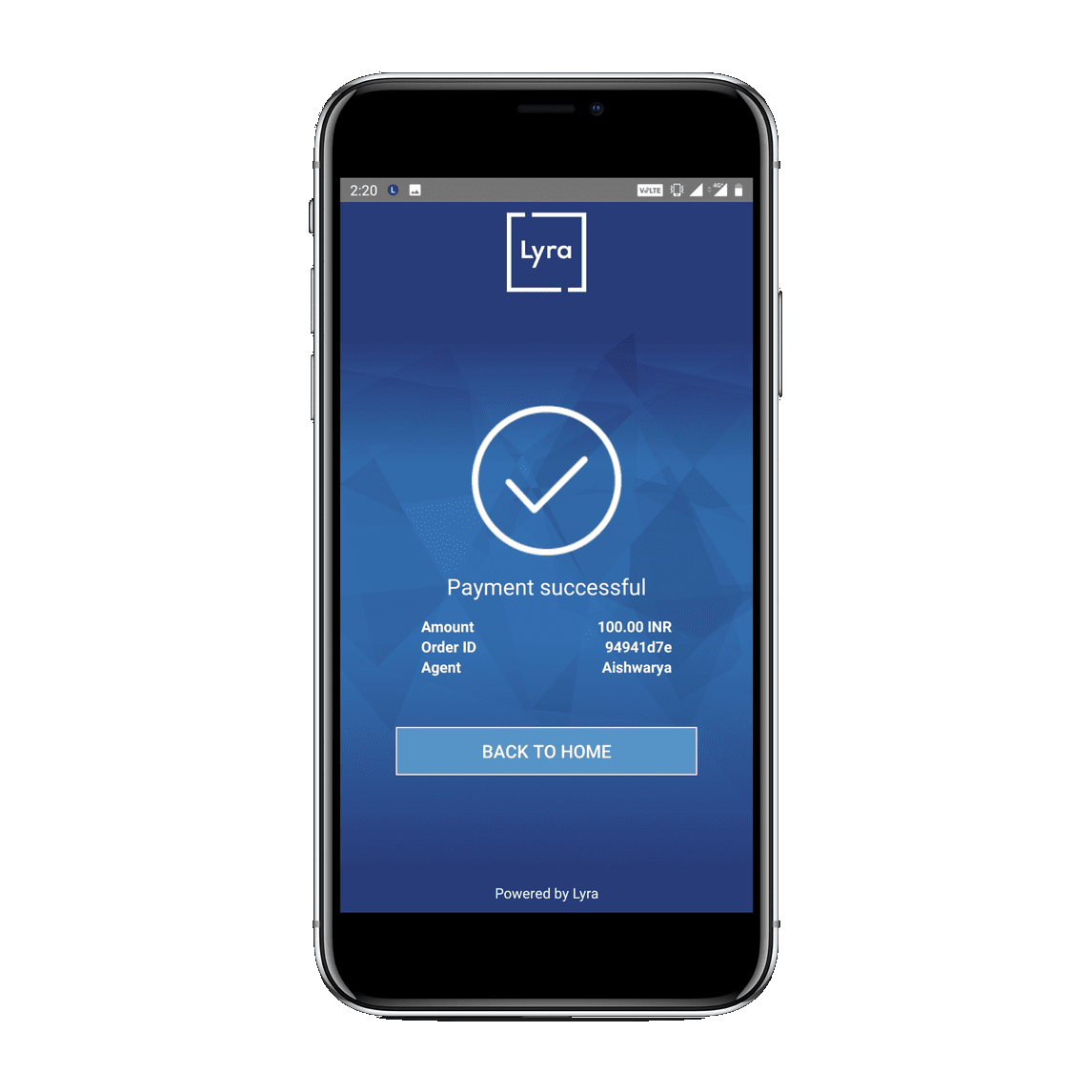 Benefits
Merchant
An alternative for your bulky POS machine
Share payment links via social media apps or personal messaging applications
Payment customized QR code
Simplest User Interface
Don't worry if you don't have a website or business app
Fraud & Chargeback minimization
Quick cashless transaction each time
Customer
No need to download additional application for payment
Simply click on the payment link to proceed with payment
No need to share personal details for payment
No need to share bank details
Can use any mode of payment
The shared payment link is backed with the most secured Lyra Payment Gateway
Secured Cashless Transactions
Compliant with PCI DSS V 3.2.1
Compliant with card schemes
3DS secured
Equipped with Secure Lyra Payment Gateway
EPOS for your business
Lyra epos is for you if you own businesses like

Restaurants
Takeaways
Clothing store
Pubs & Bars
Retail
Hardware shop
Coffee shop
Hotels
Businesses who don't own a website and can not afford a POS machine
Personal tutor
Brick and mortar store
Cafe
Catering services
Gym & Spa
And many more
Social Media-based Businesses
Business group on WhatsApp
Business group on Facebook
Business on Instagram
And many more
Utility Bill Payments
Gas bill
Cable Bills
House Rent
And many more
---
Get Started with Lyra EPOS now!
---