Whatsapp payment for Businesses and freelancers
A guide for freelancers and small businesses to use WhatsApp payment solution for online payment acceptance.
How businesses communicate with customers is changed drastically nowadays. This communication has turned more personalized and customers want real-time and instant answers.
With an increasing number of options and omnichannel interactions, businesses need to stay updated on modernized customer communications.
Today, customers are using high-tech, and need more comfortable ways to shop and to pay. Customers want payment methods that are per their choice, and that they are comfortable with.
They don't want to jump from app to app to initiate and make payments.
The whole procedure from selecting the service/solution to payment completion should be seamless as per the requirement.
So, businesses are trying to give in to these requirements and are in constant search of an app that will meet customers' as well as businesses' requirements (and more importantly budget).
And WhatsApp Payment acceptance has the potential to master this game!
Since its introduction, WhatsApp has revolutionized online communication. It is one of the most successful used apps worldwide and it is making sure that this status will remain as it is.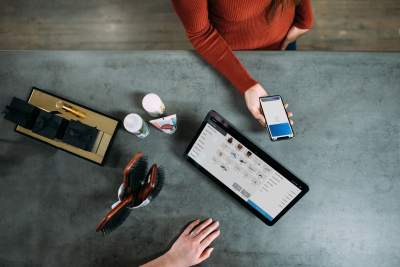 6 Reasons Why Your Business Should Use Mobile Payments The evolution of money goes from the barter system to coins, papers, plastic, and now phones,...
10/02/2020
Here are some WhatsApp Statistics
WhatsApp is available in more than 180 countries and in more than 50 languages. Over 1.5 billion users access WhatsApp on a monthly basis. With over 340 million users alone in India, there are over 2 billion WhatsApp users around the globe.
WhatsApp is easy to understand and operate and has a user-friendly interface, as aforementioned, it is one of the most widely used channels for peer-to-peer and group communication, and with statistics as overwhelming as these, it is more than obvious that businesses can and will use WhatsApp for engaging customers.
WhatsApp works like wonders when it comes to customization of shopping, from showcasing the product to one on one communication and engagement with customers, WhatsApp provides a seamless process. Still, customers need to switch to another app when it comes to online payment.
Here Online Payment Acceptance via WhatsApp is a missing piece in the puzzle.
Accepting Digital Payments via WhatsApp
Accepting digital payments via WhatsApp has its benefits for both customers and merchants.
For businesses, it makes a complete and stand-alone solution.
For customers, well, they don't need to switch from app to app for making online payments and they can pay online at any time and anywhere.
Accepting Digital Payments via WhatsApp for Merchants
WhatsApp Payment can be considered a direct payment acceptance method. It can be used in face-to-face as well as non-face-to-face payment collection. Providing real-time payment transactions, payment acceptance via WhatsApp eliminates the need for any external hardware or additional application for receiving online payments.
Without any third-party interventions, WhatsApp can send payment orders and can collect payments anywhere at any time.
WhatsApp has a broadcasting feature that allows merchants or small businesses to send bulk payment orders saving extra effort.
Accepting Digital Payments via WhatsApp for Customers
Customers, they don't need any additional applications to send online money as the transaction happens within WhatsApp.
It provides seamless transactions and on-the-spot payments. Customers as well as aware of how WhatsApp works and can get familiar with sending payments through it.
So, how to get started with WhatsApp Payment?
Lyra, for the first time in India, has introduced an online payment collection solution via WhatsApp.
With the direct partnership with WhatsApp for payments, We provide an effortlessly seamless and extremely convenient payment acceptance solution.
Features
Quick onboarding with no additional cost
Multiple payment options
Customization of the payment messages
Send bulk payment orders via specially designed API
Dashboard for a clear overview of all transactions.
Day-to-day auto-generated reports for transactions
Fraud detection and Chargeback handling
Learn more about Lyra WhatsApp Payment
How does it Work?
It is extremely easy to send online payment orders via WhatsApp
STEP 1: Create Payment Order
You just have to send a message via Whatsapp containing the amount, currency, and your (merchant's) mobile number to LYRA certified number.
STEP 2: Generating Payment Link
Lyra sends the buyer/customer a message containing a link to make the payment. At the same time, the merchant also receives the link along with a confirmation that the payment link has been sent to the customer. If the merchant wishes to send that link via another channel (mail, SMS, …) he can do so.
STEP 3: Receive Payment
The buyer clicks on the link and is directed to a secure payment page to finalize the payment
STEP 4: Confirmation of Payment
When payment is made, the merchant receives a confirmation message that the payment has been done.
Easy Right! In just 4 steps you can collect your payment within minutes.
Boost your Business
Want to get started with WhatsApp Payment or have some queries, we are here to help.