Why would consumers prefer mobile payments?
The question is why not?
We have already seen the benefits of mobile payments for businesses. (if you still don't know read it here)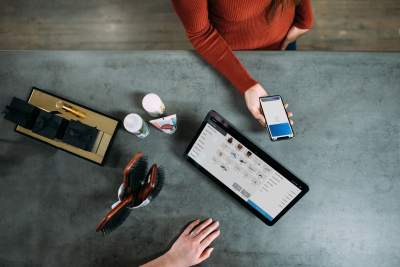 6 Reasons Why Your Business Should Use Mobile Payments The evolution of money goes from the barter system to coins, papers, plastic, and now phones,...
10/02/2020
And if you are still not convinced, let's try to visualize mobile payments from the consumer's point of view. 
Consumer benefits of mobile payments
Mobile payments are Convenient

Security

Variable payment modes

Time-efficiency

Pay whenever, wherever

Ease of paying

Management of expenses

Deals and offers
Mobile payments are Convenient
This one is pretty obvious. Do we go anywhere(and I mean anywhere) without our mobile? Someone might forget their pen, IDs or even wallets or leave them at home unintentionally, but mobile? No way!
Mobiles are always within reach, they are becoming an extension of all the daily tasks and mobile payment service providers are making it easy to pay via them. It is already catering to customer's needs by ordering food, shopping online, so if mobile is going to assist customers in paying their bills, why would they want to carry around their heavy wallet?
No more shuffling for exact change, carrying cards everywhere and remembering card details, it is just a matter of convenience.
Security:
Mobile payments offer secured payment options for customers by providing an extra layer of security. This includes biometric, fingerprint scanning, 2FA, etc. In addition, customers don't need to carry cash or debit or credit cards with them, so they are less likely to be stolen.
Mobile payment service providers are implementing new techniques like tokenization, blockchain so the customers' data will be safe and the mobile payment transaction will be secured.
Variable payment modes:
Customers can pay with any option they like or are comfortable with via mobile payments. Mobile payment service providers offer a variety of payment modes like debit and credit cards, internet banking, mobile wallets, UPI, etc.
Mobile payment can also be carried out by paying directly from the bank through ACH.
Time-efficiency:
Payment via mobile payments increases the checkout process. It eliminates the need to look for cash or to wait in the long line. Customers can place an order, pay via mobile payment and receive their purchase, as simple as that.
Pay whenever, wherever:
The internet and online shopping websites allow customers to shop whatever they want whenever they want. And, with mobile payments, customers can pay for their shopping whenever and wherever. No need to go to the shop, searching for cash or, worse, running out of cash.
Ease of paying:
Mobile payments can save the first payment option as the default(card or bank). As the default payment option is always available, customers can pay when they are ready to make a purchase.
Management of expenses:
Managing daily expenses is an important task for all of us. Many of us use expense management applications. Many mobile payment service providers offer management or finance tracking addon with the application.
Mobile payment applications or mobile wallets can be easily integrated into such applications and can help customers keep track of what they're spending, how often they are spending and where they are spending.
By adding a default payment method and using it for all payments, it makes it easier to track/manage finance as payment is done by only one card.
Deals and offers:
Mobile payment providers often attract and target customers through special deals and offers. These deals and offers are received by the messages or pop-ups integrated into the mobile payment application (Remember the "buy one get one" pizza deal?).Mobile payment users have easy access to great deals and customers love to use these offers and deal without a doubt.
Mobile payments are fast and they enable fully digitized financial transactions. With all these benefits, customers will absolutely prefer mobile payments. And this scenario implies that merchants and businesses also have to start accepting digital payments.
For Mobile Payment Solution that your Customers will Love