Every business has different long and short-term needs. Choosing the right online payment solution that supports those unique needs can be challenging at times.
Currently, many online payment service providers are designing (or had already designed) specific options that can help businesses in online payment processing.
Following every niche, these options can if chosen wisely boost your business. Considering business as well as customer requirements, a business owner must assess each and every option carefully considering all of the use cases for business.
So, without further ado, let's start from the very basics.
What is an online payment solution?
An online payment/e-payment/electronic payment implies paying for goods or services online (on the internet). 
It receives an online payment request from the customer via a business website, authenticates all payment details, authenticates the transaction, and finally transfers the funds from the customer's account to the merchant's account.
When a customer visits an e-commerce portal or website for purchasing goods or services from it, he/she can make the payment on the spot with the help of the payment solution/terminal.
The e-payment solution includes all the financial operations using devices like computers, smartphones, etc.
E-payments help with several methods like credit card/debit card payments or bank transfers. In today's time, it is observed that the most niche method of making online payments is via cards.
A payment solution processes, authenticates, and authorizes customers' card information and completes the transaction. Without a proper payment solution, the business will not be able to receive online payments.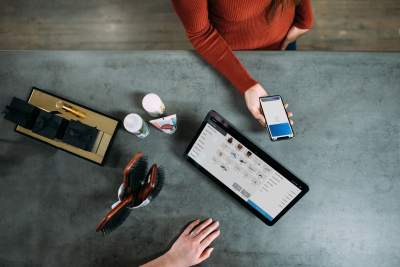 6 Reasons Why Your Business Should Use Mobile Payments The evolution of money goes from the barter system to coins, papers, plastic, and now phones,...
10/02/2020
Why does your business need an online payment solution?
Every business needs to collect payment from the customers (It's rather obvious). But in today's date and age, where cash is slowly becoming obsolete, accepting online payments is becoming one of the core necessities for any business. Here an online payment solution enters the frame. 
Online payments are required because of one major reason for the growing demand in the country for online payment solutions/card payments.
Source: World Payments Report
The aforementioned statistics reveal that Asia is emerging as a continent with more and more non-cash transactions.
Since this is a huge positive impact on the digital payments economy, the growing demands of online payment solutions are met with rapid advancements.
In addition, it is expected that Asia will continue on a high-growth trajectory. It is anticipated that the CAGR will reach 28.8% before 2021.
This estimation is based on the factors, such as government efforts for financial inclusion even in rural areas, an increase in smartphone use across the country, and increased awareness about the benefits of e-payments.
In simple words, every business in today's time in India majorly requires an online payments option to be on par globally.
The payment solution is an important part of the checkout process. It affects the customer experience as the checkout process depends on, speed, reliability, security, and flexibility.
Most payment solutions provide multiple payment methods providing a good and flexible payment experience for customers.
Accepting payments locally as well as globally becomes easy as a good payment processor supports different currencies and accelerates the transactions
Besides, there are several other reasons a business requires an e-payments' arrangement:
Instant money transfer is possible with the help of an online payments channel

The easier and preferable method of making payments by customers/clients

Maintaining a database becomes much simpler

Prevents fraud with its safety mechanism, and avoids accounting errors

The merchant can receive payments 24/7 with an online payments mechanism set.
What is a Payment solution provider?
Payment service providers, also known as payment processors connect merchants to these virtual terminals to accept payments online, they handle the entire online transaction process network. The nodes of this connection network are customers, merchants, financial institutes, and card networks. 
The main objective of the payment service providers is to connect all these entities to provide an efficient, secure, and seamless payment experience for both merchants as well as customers.
How to choose a payment solution provider?
Choosing the right payment solution can be a very crucial task and has to be done after a proper assessment.
The long and short-term needs of the business and its continuous evolution should be the key parameter in this assessment.
In other words, The payment solution should provide flexible options, security, and convenience, and should evolve with evolving technologies.
Once you have a better idea of your business's requirements, you can begin looking at other selection criteria.
When choosing an online payment solution for your business, a set of parameters needs to be checked for making the correct decision.
These parameters help the business to adopt that payment solution, which provides sustained customer loyalty and an uninterrupted settlement of the received amount.
Prior to choosing an online payment solution, the merchant must ensure that all of these be in alignment:
Easy sign-up and onboarding process-
While deciding on an online payments solution, a merchant must ensure that the sign-up process is easy and quick respectively.
When sign-up is simple, the merchant does not have to go through much of a hassle, and hence, makes itself a part of the service-providing company in no time. Making the process simpler is an easy onboarding process for the payment service provider.
Earlier, the tasks that added to the workload were handing over the documents in person, waiting for approvals for months, and following up with the payment solutions company.
Finishing all the aforementioned requirements manually would take a toll on the business since it would not be able to commence its payment operations for a long time.
High success rates –
The success rates of various online payment solution companies are what defines them as suitable or not for the business to get onboarded.
It must always be taken care that the online payment solution considered for the business has all payment modes.
This leaves customers free to make payments from any mode, and thus, increases customer loyalty and satisfaction. Mainly easy checkout, several payment options, and uninterrupted transaction flow all lead to higher transaction success rates.
Low Charges –
When a business integrates with a payment service provider for receiving payments from its customers, the major cost depends on the price of every transaction.
This simply means that the company provides the business with payment pathway charges for each transaction that goes through its platform.
The cost of each transaction sums up to be a huge amount ultimately. Hence, the business must understand beforehand several types of cost/charges like setup fees, transaction charges, and similar costs. Most importantly, the business must also enquire about any hidden charges (if any) to avoid any confusion later.
Several Payment Options –
There are various payment options that are a must for the business to include for liberating its customers with regard to making payments. Including all payment methods helps the business gain an additional advantage. This way, a customer can make payment with any of the options below most suitable for them:
Credit/Debit card

Net banking

UPI

EMI

E-Wallets
Seamless checkout –
The checkout process must be optimized for customers so as to provide them with a smooth payment flow and consequently, a great experience.
Such an easy-to-use checkout interface makes shopping simple and quick for the customers. Be it a mobile application or website, there should be the availability of an uninterrupted checkout process for the customers on a shopping website/portal.
Highly Secure –
Payments done via the e-payments platform are highly secure since they are regulated and validated. Validations by certificates such as EMVCO 3D Secure and PCI-DSS make online payments secure against rising cyber frauds. Consequently, the process of the transaction flowing from the cardholder's bank account to the merchant's bank account is firmly secured by the relevant compliances and a regular follow-up on the same.
Powerful dashboard for tracking the transactions –
Providing merchants with access to the back office is an additional advantage to the business since the merchant is then able to get an insight into the details of transactions until settlement.
Hence, a powerful merchant dashboard is a must for maintaining track of transactions. Moreover, the dashboard must be optimized for all the devices, like mobile phones, tablets, and desktops.
Here is a glimpse below of Lyra's merchant dashboard. It shows all that a merchant may need to follow up in order to sort out its transactions on a daily basis.
Are there other options for payment services?
Every business that accepts credit and debit cards needs payment processing services. Not all of those connections are direct—some involve third parties like payment gateways and payment facilitators.
Choosing the right payment solution or service often depends on the types of businesses.
There is a wide variety of these types, it varies from retail, and eCommerce to companies that conduct off-site business, and social media businesses to home-based businesses.
similarly, these businesses need to explore the possibility of including a virtual terminal to accept payments online. 
Not necessarily all businesses have their own website, so in this case, they can explore some alternative services.
Lyra's online payment solutions for your business
In conclusion, Lyra provides a perfectly tailored payment solution for the business, no matter the business category. With Lyra, businesses can opt for all types of payment methods including UPI, net banking, and more. For every business case, Lyra is here to provide an ideal solution.
Didn't Get What You were looking for?
Follow Lyra India for more updates.